Pork Carnitas the easy way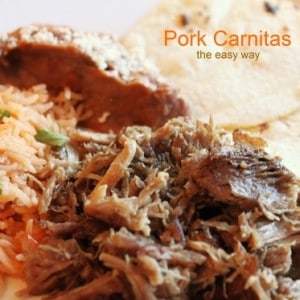 Author:
Diane Schmidt Created by Diane
4-5 lbs pork ribs
1 cup water
1/4 tsp salt
1 tablespoon oil
add onion, 3 garlic cloves, chili powder, or another favorite seasoning
Place 4-5 lbs pork ribs in a pressure cooker
(cutting the meat into smaller pieces ensures the meat will all be cooked evenly tender, rather than putting large pieces of meat in all at once.
Add one cup of water
salt the top of the meat
Heat meat in the pressure cooker, when it comes to temperature (when the toggle on top rocks in a steady rhythm) turn on medium heat and cook 50 minutes.
If using an electric pressure cooker, simply set it to 1 hour.
Release the pressure.
Remove from the pressure cooker, shred pork with 2 forks.
Heat oil in a skillet ( I used my cast-iron skillet, but any skillet would work) and cook until crispy.
Now, it's ready to serve.
Recipe by
Created by Diane
at https://www.createdby-diane.com/2012/04/pork-carnitas-the-easy-way.html