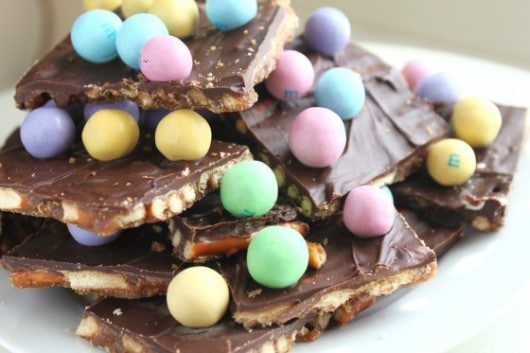 1 cup butter
1 cup brown sugar
2 cups mini chocolate chips
12 oz. pretzel sticks (you'll have extra with a one pound bag)
1 lb pretzel M&Ms
preheat oven to 400 degrees
Line an edged pan with foil (1/2 sheet)
Line pretzel sticks in pan
melt butter and sugar in saucepan, stir and boil for three minutes
spread toffee mixture over pretzels
Bake for 8 minutes
Pour chocolate chips on top of toffee mixture, it only take a few minutes for them to melt, then spread the chocolate smooth with spatula.
Place Pretzel M&Ms on top and put pan in refrigerator for 1/2 hour or until set.
Cut or break apart.