Blueberry Pie Recipe with the double crust recipe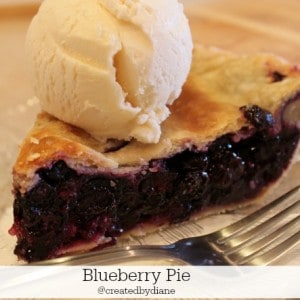 Author:
Diane Schmidt Created by Diane
2 cups unbleached flour (just fluff & measure)
1/2 teaspoon salt (blend into flour)
1/3 cup butter (cold)
1/3 cup vegetable solid shortening
Using a pastry blender - blend until all flour is absorbed
Now add 6 tablespoons ice water all at once
Quickly using a fork, mix well
Form a ball lightly with your hand. Cut the ball in half, place one-half covered in the fridge, roll the other half out over a lightly flowered surface with a rolling pin
Place the rolled crust in the pie plate - trim crust with scissors leaving a half-inch to hang over the rim.
cups frozen or fresh blueberries
cup sugar
/4 cup tapioca
/2 teaspoon cinnamon
Place in the unbaked crust - pile high in the center
Dot blueberries with a little butter near the center
Roll remaining dough, fold in half gently placing over the filled pie
Trim - leaving one-inch past edge of pie plate
Turning extra dough under all around the edge, flute edge, cover with
strips of foil. Add a small amount of milk to brown, make 4 small slits
near center, top pie with a pinch of sugar.
BAKE 425 preheated oven.  Bake until some blueberry juice starts bubbling
Set timer 50 minutes, and every 5 minutes till done (mine takes 1 hr. 5 min.)
Bake pie in the center of the oven.
Recipe by
Created by Diane
at https://www.createdby-diane.com/2010/08/blueberry-pie-recipe.html