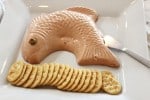 1 can tomato soup
1 package reduced fat cream cheese
½ cup non-fat plain yogurt (or you can use mayonnaise if preferred)
1 onion diced (I prefer red, but use white if that's all I have)
2 packages plain gelatin
10-12oz canned lump crabmeat (drained)
wax paper to cover molds
*Have all items ready before beginning-the gelatin sets quickly
if you forget to chop the onion and try to do it later (believe me!)
In a medium saucepan, you will be constantly stirring with a whisk or wooden spoon.
Heat the tomato soup (do not add water)
add gelatin and makes sure there are no lumps
bring to a boil
add cream cheese, yogurt, and onion
once everything is heated,
remove from heat and stir in crab.
Place mixture in the mold sprayed with an oil spray for easy release.
Place wax paper to cover dip.
Refrigerate 6-8 hours or overnight.