Recipe for Pesto Pasta Salad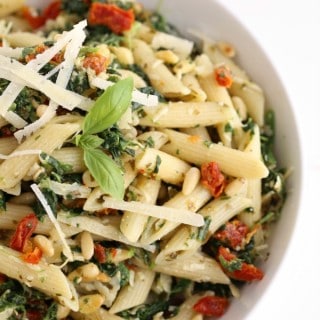 Author:
Diane Schmidt Created by Diane
1 pound cooked pasta
1/2 cup pine nuts
3/4 cup sun-dried tomatoes chopped, dry or in oil
1 package frozen chopped spinach, thawed and drained (give it a quick chop so it's bite-sized) or 5 oz fresh spinach chopped
1 cup grated Romano or Parmesan Cheese
1/2 cup pesto
Cook the pasta according to the package.
Once the pasta is drained, rinse it in cold water until the pasta is no longer hot. You can soak it in ice water with ice cubes to quicken this step up.
Mix the paste with 1/4 cup of pesto.
Next, you'll add in the spinach. If you want to thaw spinach quickly place it in a bowl of cold water in the box, or use the defrost feature of your microwave to thaw it. Drain the spinach by squeezing out all the excess water.
Add the sun-dried tomatoes and pine nuts and stir in the remaining pesto.
Add salt and pepper to taste.
Serve immediately, or it can be covered and refrigerated until you're ready to eat.
Recipe by
Created by Diane
at https://www.createdby-diane.com/2010/06/recipe-for-pesto-pasta-salad.html