How to make Homemade Lemonade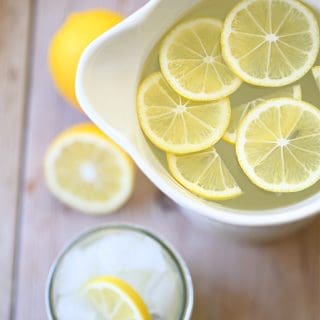 Author:
Diane Schmidt, Created by Diane
2 cups lemon juice (8-12 lemons)
1 1/2 cups sugar
14 cups water
1 cup lemon juice (4-6 lemons)
¾ cup sugar
6 cups water
1/2 cup lemon juice (2-4 lemons)
2/3 cup sugar
3 cups water
1/4 cup lemon juice (1-2)
2 tablespoons sugar
14 oz water
The number of lemons will ultimately depend on size, variety, and ripeness.
I use granulated sugar to make lemonade, but if you're looking for a sugar alternative I've used monk fruit sweetener and swerve with good results. Start with half the recommended sugar then add more to taste, those sweeteners tend to taste sweeter than sugar, so you will not need as much.
The best way to make the lemonade is to add the sugar and a small portion of warm water to the container and mix until the sugar is dissolved.
Add the lemon juice and remaining water and stir well.
Serve over ice.
Recipe by
Created by Diane
at https://www.createdby-diane.com/2022/05/how-to-make-homemade-lemonade.html