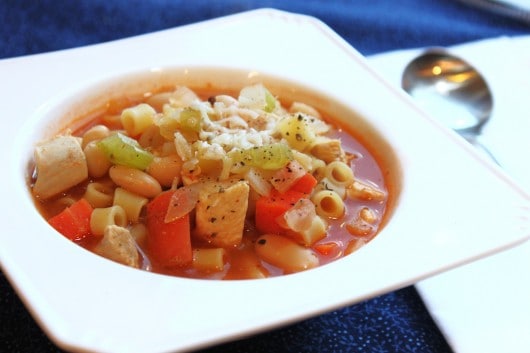 2 carrots
2 celery stalks
½ medium onion
4 cups (32oz) chicken broth
2 cups water
1½ cups small pasta (DItalini)
1 cup Tomato Sauce
1 15 oz. can Cannellini beans
2 boneless skinless chicken breasts
1 tablespoon oregano
¼ cup grated Romano Cheese
salt and pepper to taste
Dice carrot, celery, onion.
Place the vegetables into a 4 qt. pot and heat them on medium heat with a tablespoon oil.
Begin cutting two chicken breasts into one-inch pieces.
Add the chicken to the vegetables, stir and cook 5 minutes.
Add chicken broth and water and bring to a boil.
Place 1½ cups small pasta into the broth.
When it comes back to a boil add 1 cup Tomato Sauce, beans, oregano, salt and pepper.
Cook for 5 minutes and serve.