Lemon Rosemary Shortbread Cookies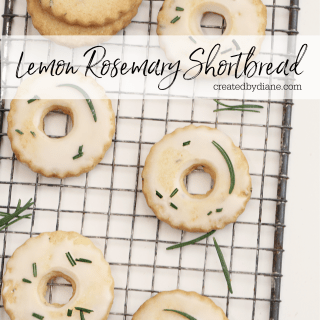 Author:
Diane Schmidt, Created by Diane
Cuisine:
American, Scottish
Cookie Ingredients
1/2 cup salted butter, room temperature
1/4 cup powdered sugar
1 teaspoon vanilla extract
1 tablespoon fresh chopped rosemary, additional pieces for decoration
1 cups all-purpose flour
1 tablespoon fresh lemon juice
1 tablespoon fresh chopped rosemary
Icing Ingredients
½ cup powdered sugar
1 tablespoon warm water
1 tablespoon lemon juice
fresh rosemary for garnish
Preheat your oven to 350°
In the bowl of a mixer beat butter until it's light in color and fluffy.
Add in powdered sugar, vanilla, lemon, and rosemary and mix completely.
Add in the flour, scraping down the sides and bottom of the bowl.
Mix on medium speed then on high until the cookie dough pulls away from the sides of the bowl.
Roll cookie dough into a ball, so the dough is smooth.
If the dough is moist or sticky flour your hands and tap the flour around the dough.
Roll out the cookie dough in between parchment paper, wax paper, or plastic wrap to avoid adding additional flour and drying out the cookies.
With a rolling pin, roll out cookie dough to ¼" thick. I use two 1/4" wood dowels to make sure all the cookies are the same thickness.
Cut cookies out with a cookie cutter, I used a 2" scalloped circle, with a large piping tip to cut the inner circle.
Place cookies on a parchment-lined baking sheet.
Place the baking sheet in the refrigerator for 10 minutes, and allow the dough to be completely cold.
Then remove the baking sheet from the refrigerator and bake the cookies for 15 minutes. The cookies should be fairly pale, lightly golden on bottoms and edges.
Do not over-bake or brown shortbread, it will become dry and crumbly.
Allow cookies to cool completely.
Once cookies have completely cooled, prepare icing, by mixing the powdered sugar with the warm water and lemon juice until the icing is smooth. (add more sugar f needed for desired consistency)
Drizzle the icing over cookies, or dip the tops of the cookies into a dish with icing and allow excess to run off.
Add pieces of rosemary for decoration before the icing sets up.
Place cookies on a cooling rack until the icing dries completely.
Recipe by
Created by Diane
at https://www.createdby-diane.com/2020/12/lemon-rosemary-shortbread-cookies.html