Jalapeno Bacon Mac and Cheese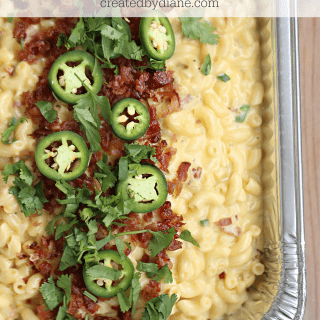 Author:
Diane Schmidt, Created by Diane
1 lb elbow macaroni (or other pasta variety)
2 tablespoons butter
1/2 cup diced onion
1 jalapeno, diced (I use the seeds and all) sometimes I use two jalapenos
1/2 cup cooked crumbled bacon, sometimes I use one cup
2 tablespoons all-purpose flour
3 cups whole milk
2- 2 1/2 cups grated cheddar cheese (a little more than 1/2 pound) I start with 2 cups then add more if I feel it's not cheesy enough at the end of cooking, sometimes I top the dish with some shredded cheese with the other toppings.
1/3 cup cooked crumbled bacon, heated until crispy
1 tablespoon chopped fresh cilantro
1 jalapeño, sliced
1/4 cup cheddar cheese
Cook pasta according to package directions.
Drain pasta.
Add butter to pot with onion and jalapeno and stir to combine and cook for 1 minute, onion will release flavor as will the jalapeno (if you want a more mild flavor cook the jalapeno longer).
Add the flour to the pot, and whisk together.
Slowly pour in the milk as you stir to combine everything so the sauce is thick. Do not just pour the milk in, hte milk needs to be poured in slowly so the sauce remains thick.
Add in the cheese and as it's heating stir well.
Add the drained pasta.
Add in the bacon and stir to be sure everyone is heated through and combined.
Pour the pasta into the serving dish.
Top the mac and cheese with additional cheese if desired, bacon, cilantro, and jalapeno slices.
This recipe can be easily doubled or tripled for more servings.
Recipe by
Created by Diane
at https://www.createdby-diane.com/2020/12/jalapeno-bacon-mac-and-cheese.html