Alternative Cream Cheese Frosting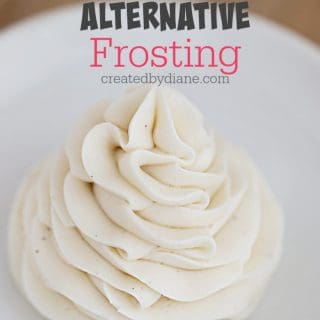 Author:
Diane Schmidt, Created by Diane
Recipe type:
Dessert, Frosting
1/2 cup butter, room temperature (or butter alternative if you'd prefer it vegan)
2 cups powdered sugar
1 tablespoon milk or heavy cream (or milk alternative if you'd prefer it vegan)
1 teaspoon white vinegar
1/2 teaspoon vanilla extract
1 teaspoon fresh lemon juice
1/4 teaspoon salt
In a bow of a mixer beat butter until whipped and smooth.
Add in the powdered sugar and begin mixing on low until it combines, then turn up to medium-high and add the milk, vinegar, vanilla, lemon juice, and salt.
Continue whipping until smooth.
Spread over your favorite desserts
Multiply to make more frosting, the small batch will spread over an 8" cake, if you want to fill a 2-layer cake be sure to double or triple the recipe. If you want to pile the frosting high and fill a layer cake you can use 4x's the recipe for plenty of frosting.
Recipe by
Created by Diane
at https://www.createdby-diane.com/2022/04/alternative-cream-cheese-frosting.html