Cheesy Jalapeno Bacon Stuffed Mushrooms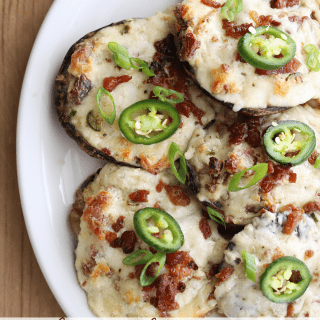 Author:
Diane Schmidt Created by Diane
Recipe type:
Appetizer, Main Dish
5 (2.5") portabella mushrooms
2 oz cream cheese, room temperature
1 cup grated cheese, mozzarella (or cheddar or a Mexican blend)
1 jalapeno diced, use more jalapeno if you prefer (remove seeds for milder jalapeno flavor) precook jalapeno if you do not want much heat.
2 tablespoons diced onion (red or green work well)
4 pieces of cooked bacon or 1/2 cup cooked crumbled bacon
jalapeno slices, if desired
Preheat oven to 400°
Prepare a baking sheet with foil for easy cleanup.
Clean off mushrooms, rinse and dry them or wipe them with a damp paper towel.
Remove the stems of the mushrooms. (you can scrape the underside of the mushrooms smooth, but I just leave them alone), you can chop the stems to add them to the filling or leave them out, I leave them out and have more cheesy jalapeno filling.
In a medium bowl mix cream cheese, mozzarella cheese, jalapeno, onion, and bacon together until it's well blended.
Place the mushrooms on the baking sheet upside down.
Add 4 tablespoon of filling to each mushroom and press down a bit so the filling doesn't fall out.
Bake at 400° for 10 minutes or until tops are golden, melted through.
Top with extra cooked crumbled bacon.
Recipe by
Created by Diane
at https://www.createdby-diane.com/2021/01/cheesy-jalapeno-bacon-stuffed-mushrooms.html