Broccoli and White Bean Soup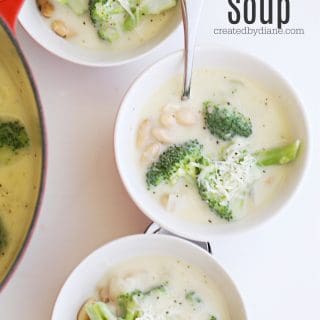 Author:
Diane Schmidt Created by Diane
1 lb broccoli florets
1 cup onion, diced
1 tablespoon butter or oil
1 tablespoon flour
4 cups chicken broth
2 teaspoon chicken bouillon
2 cups milk
2 tablespoons cornstarch
1 15.5 oz or similar size can white cannelloni beans, drained
1 oz Romano or parmesan cheese
1/2 teaspoon coarse kosher salt
1/8 teaspoon ground black pepper
In a 4 quart or larger pot saute the onion with a tablespoon of butter over high heat for 1 minute.
Add in the flour and stir, slowly pour in the chicken broth stirring while adding it until it creates a thick sauce, then add in the chicken bouillon and stir.
Add the cornstarch to the milk and stir until the cornstarch dissolves.
Once the broth comes to a simmer, add in the milk mixture. And turn down the heat so the milk doesn't rapidly boil, just to a simmer.
Add in the broccoli and stir it well. The broth should just about cover all the broccoli, it's going down a bit as it cooks.
Cook the broccoli until it's tender if you are pureeing it cook it until it's a little soft.
Add beans now to heat them up if you'd like or add beans to each bowl before pouring the soup over them to heat them if not adding them to the entire portion of soup.
Add in Romano cheese, salt, and pepper.
Serve with crusty garlic bread, oyster cracker, or a turkey sandwich.
Recipe by
Created by Diane
at https://www.createdby-diane.com/2021/01/broccoli-and-white-bean-soup.html