Portuguese Pork with Clams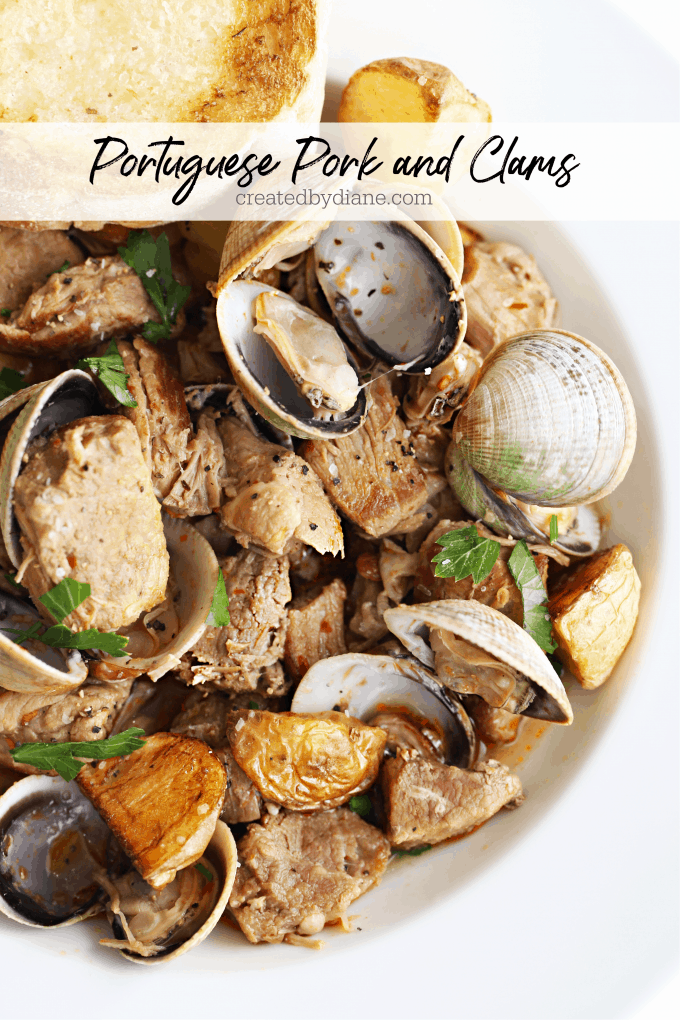 Author:
Diane Schmidt Created by Diane
Recipe type:
Main Dish, Seafood
Cuisine:
Portuguese, American
4 lbs boneless pork shoulder butt, cut into 1-inch pieces
1 tablespoon oil (avocado oil or olive oil)
5 garlic cloves, sliced
1 tablespoon harissa
1/2 teaspoon smoked paprika (or regular paprika)
1/2-1 teaspoon coarse kosher salt
1/4 teaspoon coarse ground black pepper
1 cup white wine (any variety, I usually use dry white wine, but have used rose with great results)
3 lbs small clams (cockles, bottlenecks, etc) I used New Zealand Cockles I got at Costco) rinse with sugar water to remove all sand, do this twice and let them soak, then swish them to open and replace sand with the sugar water, like ocean waves that flow to get the sand in there, get the sand out and the sugar will dissolve leaving great un-gritty clams. (you can use salt and in your water if you prefer to wash out the sand)
1 lb baby Yukon gold potatoes coated in oil and salt (roasted in oven 400° for 15 minutes)
Crusty bread
Lemon wedges
Brown meat in a tablespoon of oil on high (in the Instant Pot Saute Mode, or a skillet) Do this in small batches so the meat browns, until all the meat has browned sides.
Next mix the wine, harissa, paprika, salt, and pepper to the pork in the pot of the instant pot.
Close the lid and seal the steam knob.
Set the pressure cooker to 30 minutes.
Allow the pressure to release for 5 minutes on its own, then release the pressure by moving the know to open, to release the remaining steam.
Add the clams, close the lid and set the timer to 5 minutes, then release the steam and check the clams, if it needs another minute or so just cover with lid or foil until all the clams open. Depending on size these take 10 minutes. Discard any clams that do not open.
Plate the dish by putting the crispy potatoes on the bottom of the bowl, then scoop onto them the pork and clams with sauce.
Add a squeeze of lemon and add salt and pepper to taste.
Serve with a side salad or vegetables like broccoli or asparagus and crust bread.
And a glass of sangria.
Enjoy.
Recipe by
Created by Diane
at https://www.createdby-diane.com/2020/08/portuguese-pork-with-clams.html