Buttermilk Cake with Blackberry Glaze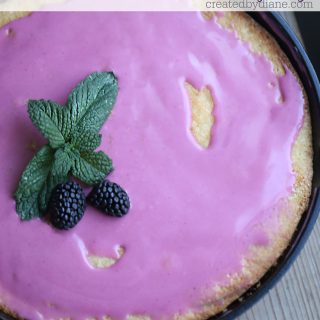 Author:
Diane Schmidt Created by Diane
1/2 cup butter, at room temperature
1-1/4 cups granulated sugar
2 large eggs
1/2 teaspoon vanilla extract
1 -1/2 cups all-purpose flour
1/8 teaspoon baking soda
1/2 cup buttermilk (reduced-fat buttermilk)
6 -8 fresh blackberries
1 cup powdered sugar
1 tablespoon buttermilk
1 teaspoon fresh lemon juice
Preheat oven to 350°
In a 10" cast iron skillet, spray with a baking spray or use a little shortening or oil rubbed on bottom and sites so the cake comes out easily.
In a larger bowl (with a mixer or whisk) beat the butter and sugar until fluffy.
Add in eggs one at a time mixing each well.
Mix in vanilla.
Mix the flour with baking soda, then add half the flour mixture.
Add in the buttermilk and mix well.
Then add in the remaining flour mixture and continue mixing until the batter is creamy and well blended.
Pour the batter into a 10" skillet and bake at 350° for 30 minutes or until a toothpick comes out clean.
Allow cake to cool at least 15 minutes, if you want to serve it warm or cool completely.
If you put the icing on a warm cake it will be thin, but taste amazing.
Place the blackberries in a microwave-safe bowl and heat for 20 seconds on high.
Press the berries through a fine strainer.
In a bowl with a spatula mix the powdered sugar with buttermilk, lemon juice, and blackberries juice until smooth. You can adjust hte glaze thinner with more liquid or thicker with a little more powdered sugar if necessary.
Recipe by
Created by Diane
at https://www.createdby-diane.com/2020/08/buttermilk-cake-with-blackberry-glaze.html