Creamy Lemon Shrimp Pasta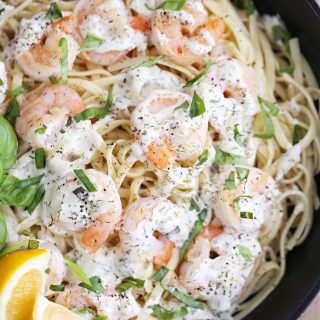 Author:
Diane Schmidt Created by Diane
Recipe type:
Main Dish, Seafood
8 oz cooked pasta (I used linguini)
8 oz medium shrimp (raw or pre-cooked)
1 tablespoon butter
1/4 cup diced onion
2 teaspoons garlic paste or minced garlic
1 cup heavy cream (or 1 cup milk and 1 tablespoon cornstarch
2 tablespoons fresh lemon juice
4 leaves fresh basil, diced
1/4 teaspoon dry (or fresh) dill
pinch salt and pepper
Romano or Parmesan Cheese (optional)
Cook pasta according to package and drain.
In a saute pan over medium heat add onion, garlic, and butter and cook for 1 minute.
Then pour in the cream, whisk in lemon juice and then add in basil, dill, salt, and pepper.
If you're using raw shrimp, fully thaw, then blot them with a paper towel. Place the shrimp in the sauce and heat over medium-low temperature until the shrimp is cooked for about 4 minutes, turning them to cook evenly.
If you're using pre-cooked shrimp, be sure they are fully thawed and blotted with a paper towel, add them to the sauce, and heat them on low just until they are hot (do not simmer the shrimp in the sauce or they'll become tough).
Place pasta divided between plates then top with shrimp and sauce.
Add Romano or parmesan cheese if desired and serve.
Recipe by
Created by Diane
at https://www.createdby-diane.com/2020/10/creamy-lemon-shrimp-pasta.html