Strawberry Bourbon Lemonade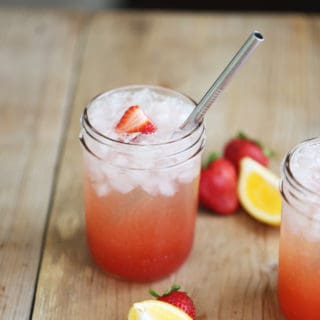 Author:
Diane Schmidt Created by Diane
Recipe type:
beverage, cocktail
2-3 tablespoons strawberry syrup (homemade or purchased) or 3 rice strawberries mashed.
2 oz bourbon
4 oz lemonade or 1 oz fresh lemon juice if you want a lower sugar version or whiskey sour style
4 oz seltzer (sparkling water)
Place about 1/2 cup ice in a 16 oz glass.
Pour the strawberry syrup over the ice, then add the bourbon, pour in the lemonade or lemon juice and top it with the seltzer.
The colder the ingredients the colder the drink will be. If everything is warm I'd add 1 cup of ice to the glass add all the ingredients and mix it up good, then strain it into a glass with 1/2 cup ice to serve.
Recipe by
Created by Diane
at https://www.createdby-diane.com/2020/08/strawberry-bourbon-lemonade.html