15 Minute Blueberry Crisp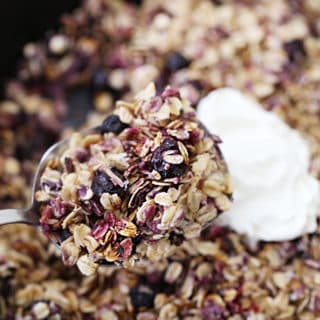 Author:
Diane Schmidt Created by Diane
3 cups old fashioned oats, oatmeal (not quick oats)
4 tablespoons butter
pinch of salt
2 tablespoons brown sugar (or white sugar can be used) more sugar may be necessary if your blueberries are not very sweet.
1/8-1/4 teaspoon cinnamon
2 cups fresh blueberries (yes you can add more fruit if desired)
optional items: mini chocolate chips, shredded coconut, sliced almonds, whipped cream, ice cream
Preheat the broiler on high or the oven to 450°
In a 10-inch cast iron skillet add oats, butter, salt, cinnamon, and blueberries, sprinkle the sugar over the top.
Place the skillet under the broiler, not too close. I put mine on the second rack down from the top, at least 6 inches.
Place the skillet in the oven and bake for 5 minutes.
Then stir the ingredients, then spread them out again so they heat evenly.
Bake for the remaining 5 minutes.
Remove from the oven all allow to cool for 5 minutes.
This is a great time to get any toppings you'll want ready. wjipped cream, ice cream chocolate chips, coconut, more blueberries or another fruit.
Add your toppings and serve.
If you have leftovers they are great hot or cold and fun swirled into a breakfast smoothie, put over a bowl of ice cream or yogurt.
Recipe by
Created by Diane
at https://www.createdby-diane.com/2020/06/15-minute-blueberry-crisp.html