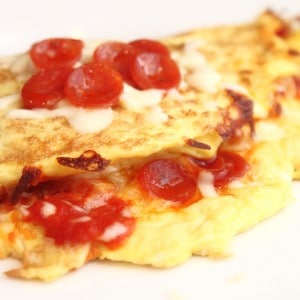 2 eggs mixed with 2 Tablespoons water
3 Tablespoons marinara sauce
Mozzarella Cheese
Pepperoni (minis)
To begin heat your pan on high until it's hot.
Turn the temperature down so you don't brown the omelet I cook mine on medium to medium-low. (sometimes I cook it at a higher temperature and really wish I hadn't).
Place eggs mixed with water into omelet pan, with a spatula, push the egg that has cooked to the center of the pan and move your pan so that the uncooked egg runs to the edges so that the center of the omelet can cook evenly.
Once the eggs are almost fully cooked add sauce, cheese, and pepperoni. Then place omelet pan under the broiler in the oven for a couple minutes to melt cheese. The sauce and pepperoni will heat as well and the rest of the egg with finish cooking. If your omelet pan is not oven safe, place a lid on the pan and turn temperature to low for a couple minutes. The steam will build up and heat the sauce and pepperoni as well as melt the cheese.