Szechuan Chicken and Vegetables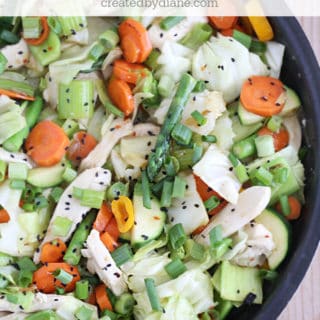 Author:
Diane Schmidt Created by Diane
2 lbs boneless skinless chicken breasts
2 cups chicken broth
2 tablespoons cornstarch
1 tablespoon soy sauce
2 teaspoons sesame oil
1/2 teaspoon garlic paste or garlic powder
1/4- 1/2 teaspoon crushed red pepper flakes (or more for a spicer dish)
1/2- 1 teaspoon salt
1/8 teaspoon black pepper
1.2 head cabbage chopped
1/2 lb asparagus cut into pieces
2 carrots cut into slices
2 celery stalks cut into 1-inch pieces
1 medium zucchini cut in half then slices
5 small baby beak peppers, sliced or 1 yellow or orange bell pepper chopped3 green onions chopped
Slice the chicken into thin slices.
Mix the chicken broth with cornstarch, add in the soy sauce, sesame oil, garlic, crushed red pepper, salt, and pepper.
In a skillet saute the chicken over high heat in a tablespoon of oil.
Then add half the sauce to the chicken, turn the chicken to medium heat and simmer the chicken until the internal temp on the chicken is 165°.
Remove the chicken from the pan to a bowl, or use another skillet to cook the vegetables.
In a heated skillet add a tablespoon of oil, saute all the vegetables turning them with tongs to heat them evenly after a few minutes add the remaining cup of sauce to the bottom of the pan and continue to toss the vegetables in the sauce and cook until the vegetables are al dente.
Combine the chicken to the vegetables and add sesame seeds and serve.
Serve over cooked rice if desired.
Recipe by
Created by Diane
at https://www.createdby-diane.com/2020/07/szechuan-chicken-and-vegetables.html