Asparagus with Hollandaise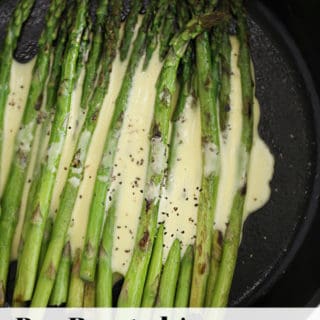 Author:
Diane Schmidt Created by Diane
1/2 - 1 lb asparagus
2 teaspoons oil
1 tablespoon water
3 egg yolks
¼ teaspoon dry mustard
6 drops Tabasco sauce
½ cup butter (melted and hot)
a teaspoon of lemon juice, if desired,(I love lemon in it)
Plan on making the sauce first, as the asparagus only takes a few minutes to roast.
In a skillet over high heat place asparagus with 2 teaspoons oil, roll the asparagus to coat them in the oil.
Cook for a minute, then turn them over or roll them to cook the opposite side,
place a tablespoon or two of water int he pan and immediately put a lid over the pan, this will allow the asparagus to roast at first them steam without overcooking them, they will be tender and also have some char marks.
Pierce the asparagus with a knife after 1 minute. when they are tender, they are done. Don't overcook them, they'll be mushy. You're looking for firm but tender.
Use an immersion blender or food processor or blender to make this sauce
I use an immersion blender.
In a tall container, add egg yolks, dry mustard and Tabasco sauce, and lemon juice
Blend for a few seconds.
Heat butter in the microwave until it's completely melted, put the butter in a large enough dish so it won't spillover.
Drizzle in the melted butter while the blender is running. The sauce will thicken immediately.
Pour the sauce over the asparagus, add salt and pepper and serve.
Recipe by
Created by Diane
at https://www.createdby-diane.com/2020/05/asparagus-with-hollandaise.html