chocolate chip cookie dough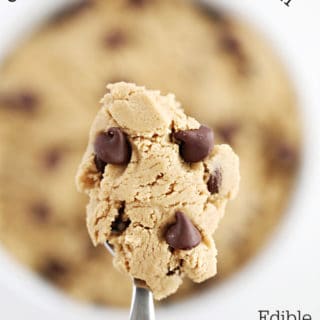 Author:
Diane Schmidt Created by Diane
2 cups all-purpose flour
1 cup butter, room temperature
3/4 cup brown sugar
1/4 cup granulated sugar
1 teaspoon salt
2 teaspoons vanilla extract
3/4 cup chocolate chips
In a microwave-safe bowl, heat flour for 30-second intervals (twice) stir at 30 seconds. This will ensure the flour is safe to eat.
Allow the flour to cool, stir it to soften it if it gets firm. You can sift the flour, this will make it "lighter" in texture, which I tend to like. Not necessary as I made it both ways.
In the bowl of a mixer beat butter until smooth and whipped, add in both sugars and mix on medium-high until combined fully, scrape down sides and mix again.
Add salt and vanilla, mix to incorporate.
Add in flour slowly on a low speed to combine, then mix on medium speed to medium-high speed and mix well, the dough should pull away from the sides of the bowl.
Stir in the chocolate chips by hand.
The cookie dough is ready to eat, it will be nice and soft to scoop into ball shapes, you can line up scoops on a baking sheet and freeze them, you can roll them into balls to freeze, you can coat them in chocolate for truffles, or scoop it into serving dishes or jars to eat immediately or refrigerate or freeze for serving later. After you freeze the cookie dough on a baking sheet for an hour, place them in an airtight bag or container.
It's best to portion out the dough individually before refrigerating it, or it will become solid and hard to portion out after it's cold. Alternatively, you can press it flat on a piece of wax paper and cut it gently with a knife to score it, then place the wax paper covered cookie dough in a freezer bag, then when it's frozen the scored pieces will easily break apart to eat frozen, or you can remove them from the freezer to thaw for 20 minutes to enjoy.
Recipe by
Created by Diane
at https://www.createdby-diane.com/2020/07/chocolate-chip-cookie-dough.html