Grilled Chicken Caprese Salad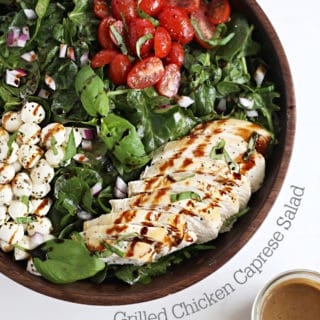 Author:
Diane Schmidt Created by Diane
4-6 cups fresh spinach
1 cup small mozzarella balls ( tiny pearl size)
1 cup grape tomatoes, cut in half lengthwise
1/4 red onion, diced
8 leaves fresh basil, chopped
2-4 tablespoons, creamy balsamic dressing (recipe below this recipe)
12oz. grilled chicken
Make the dressing: toss the tomatoes and the mozzarella balls into dressing so they're nicely coated (you'll need a tablespoon for each)
Fill a salad bowl with spinach and chopped basil, toss with a tablespoon of dressing to coat everything well.
Top with tomatoes, mozzarella, grilled chicken, and onion.
Drizzle salad with a little more dressing if needed.
Recipe by
Created by Diane
at https://www.createdby-diane.com/2020/06/grilled-chicken-caprese-salad.html