Mint Chocolate Cake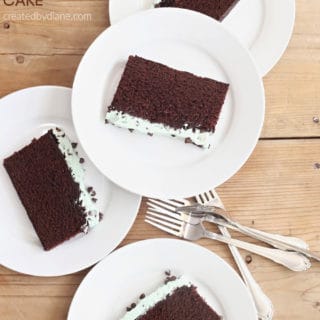 2 cup boiling water
1 cup unsweetened cocoa (I use dutch process cocoa)
1 cup butter (room temperature0
2 1/2 cup granulated sugar
4 eggs
1 teaspoon vanilla extract
1/4 cup creme de menthe
2 1/2 cups all-purpose flour
2 teaspoons baking soda
1/2 teaspoon salt
1/2 teaspoon baking powder
3 eggs whites (from large eggs)
3/4 cup granulated sugar
1/2 cup butter, cold
1 tablespoon creme de menthe
1/2 cup mini chocolate chips
In a medium bowl, mix the boiling hot water with the cocoa and set aside.
Preheat oven to 350°
In a 13x9 pan, apply a baking spray or use shortening and flour so the cake when sliced will release easily, even in a non-stick pan.
In a large bowl of a mixer beat butter with sugar and eggs and then on low add in vanilla and creme de menthe.
Next slowly add in flour, baking soda, salt and baking powder on low speed.
Next, slowly pour in the cocoa mixture, mix on low until combined or it will splatter, then mix on a little bit higher speed but not over medium speed.
The batter will be smooth and creamy.
Pour the batter into the baking pan.
Bake for 35 minutes or until a toothpick comes out clean start checking at 30 minutes so you don't over bake it. No one likes a dry cake!
Allow cake to cool completely. I left the cake in the pan to serve out of. Alternatively, you can cool the cake for 10-15 minutes, then turn the cake out onto a cooling rack to cool completely and serve on a platter or box it to go.
In a double boiler, over high heat bring egg whites and sugar to160°
A double boiler is when you have a pan of boiling water with a bowl on top without the water touching it to gently cook the item inside, in this case, egg whites and sugar.
Stir or whisk until the mixture reaches 160°.
In the bowl of a mixer whip the egg white mixture to stiff peaks and keep mixing until the mixture cools, this takes about 10 minutes. The sides of the bowl shouldn't be warm if they keep mixing.
Then on medium speed add in the butter 1 tablespoon at a time, the mixture may look clumpy, separated, or look runny, just keep mixing.
It will then become thick and when spread with a spatula it's smooth.
If it's runny, put the bowl in the fridge for 10-15 minutes.
Then mix more until it's thick and smooth.
Stir in the creme de menthe.
Add 1/4 cup mini chocolate chips into the frosting.
Spread the frosting over the cake.
Then top it with more mini chocolate chips.
Place the cake in the fridge to firm up the frosting.
If serving soon, just leave it in the fridge for about 5 minutes.
If you are serving it after it's been refrigerated for longer than a half-hour, allow it to come to room temperature for 30 minutes, then slice and serve the cake.
Spread the frosting over the cooled cake and immediately