Skillet Chicken with Creamy Cilantro Sauce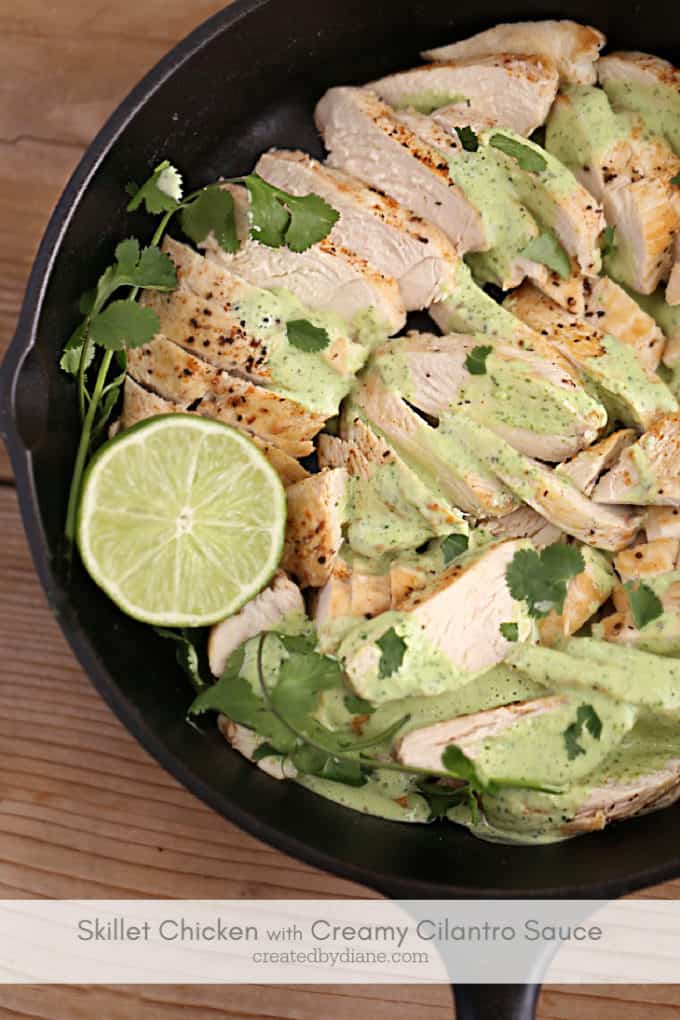 Author:
Diane Schmidt Created by Diane
2 lbs boneless skinless chicken breasts
1/4-1/2 teaspoon granulated garlic powder
1/4-1/2 teaspoon smoked paprika
1/4-1/2 teaspoon lemon-pepper seasoning
1 tablespoon oil
2 tablespoons water
1 egg
1/3-1/2 cup avocado oil or vegetable oil
1 cup cilantro, chopped
3 green onions
1 lime, juiced (or lemon)
1/2 teaspoon salt
I use an immersion blender, you can also make this in a blender or food processor, being able to drizzle the oil in as it mixes creates a really creamy sauce and it thickens as it blends add oil until it's the thickness you like. The egg oil and acid combined to create a deliciously creamy sauce.
I cut my chicken, so it wasn't so thick.
Coat chicken evenly with seasonings
Heat a skillet on the stove (I use cast iron) add the oil, place the chicken in the pan.
After a minute or two (when the bottom of the chicken is slightly crisp and golden) turn the chicken over.
Place a cover over the chicken and cook for 2 minutes.
Add 2 tablespoons water to the pan and cover, turn the heat to medium.
You can turn the chicken again if needed.
The chicken is done when it reaches 165°.
Remove the pan from the stove and allow the chicken to rest for 5 minutes.
Slice the chicken and pour the sauce over the chicken and serve.
Recipe by
Created by Diane
at https://www.createdby-diane.com/2020/05/skillet-chicken-with-creamy-cilantro-sauce.html