Meatball Tortellini Soup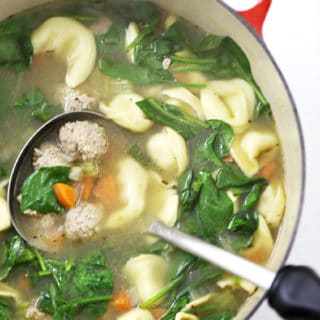 1 lb ground turkey, or ground beef or chicken
1/2 teaspoon dry oregano
1/4 teaspoon granulated garlic
pinch salt
2 carrots, chopped
2 celery stalks, chipped
1/2 white onion, chopped
2 teaspoon oil (I use avocado oil (olive oil may also be used)
12 oz package fresh cheese tortellini
8 cups chicken broth
3-4 cups fresh spinach
1 oz grated Parmesan or Romano Cheese
salt and pepper to taste
In a small bowl combine ground turkey with 1/4 teaspoon dry oregano and granulated garlic, and a pinch of salt, mix well. You'll scoop this into 1 tablespoon size balls to drop into the soup when the broth comes to a simmer.
In a 5 quart dutch oven or pot, saute the carrot, celery, and onion for 1 minute with 2 teaspoons oil.
Pour in the chicken broth and heat on high until it comes to a simmer (small bubbles)
Then turn the temperature to medium, and drop in the tablespoon size meatball mixture. I use a scoop and simply scoop the mixture and drop it in, no need to roll it if it's pressed into the scoop well, it'll stay together and it cooks quickly in the broth.
Keep the broth at a simmer and then add in the tortellini and cook for about 7 minutes or until tortellini is cooked check package directions for timing if you use a larger size tortellini or ravioli.
Then add in the spinach, it'll cook in the time you stir and it takes you to grab a bowl to serve it.
Add salt and pepper to taste.
Top bowls of this soup with grated parmesan or romano cheese.