Roasted Pork Loin with Brown Sugar Apples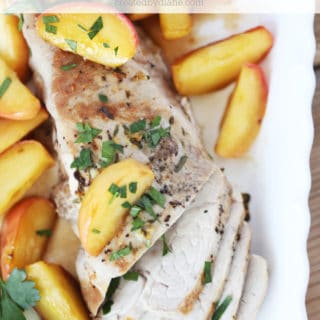 Author:
Diane Schmidt Created by Diane
1 3/4 lb boneless pork loin (or similar size)
2 teaspoons butter
1 teaspoon minced garlic, or garlic paste
pinch of salt and pepper
2 apples, sliced (I use firm sweet, Honeycrisp apples)
1 tablespoon butter
1/3 cup brown sugar
2 tablespoons water or apple juice
Preheat oven to 350°
In a roasting pan or dutch oven place the pork loin.
Rub or brush the butter over the meat, add garlic, salt, and pepper.
Bake for 30-40 minutes or until internal temperature is 145°, check with a meat thermometer.
Allow meat to rest for 10 minutes.
In a medium pan on the stove melt the butter, brown sugar and apples over medium-high heat just until the brown sugar melts and the apples get golden, add the water or apple juice and place a lid on for a minute to create the sauce.
Pour the apple mixture over the pork and serve.
Recipe by
Created by Diane
at https://www.createdby-diane.com/2020/04/roasted-pork-loin-with-brown-sugar-apples.html