Lemon Sour Cream Sheet Cake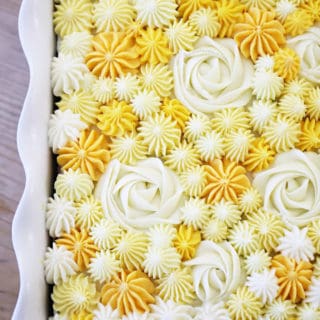 1 1/2 cups granulated sugar
1/2 cup brown sugar
4 eggs
2 1/2 cups all-purpose flour
2 1/2 teaspoons baking powder
1/2 cup milk
1/2 cup fresh lemon juice
1/2 cup butter, melted
2 tablespoons oil
1/2 cup sour cream
1 teaspoon vanilla extract
1 teaspoon lemon extract
1/2 cup butter, room temperature
4 cups powdered sugar
2 tablespoons lemon juice
1 teaspoon lemon extract
yellow food coloring (I used a couple of shades of yellow and added varying amounts to create similar shades) I used lemon yellow, egg yellow from Americolor Coloring.
Preheat oven to 350°
Prepare a 13x9 baking pan with a baking spray or shortening and flour (for easy release).
In the bowl of a mixer beat sugars with eggs until well mixed.
Add in flour and baking powder, as you mix it pour in the milk, lemon juice, melted butter, oil, sour cream, vanilla, lemon extracts and mix them until the cake batter is combined. You'll mix this on low at first then on medium until it's all thoroughly mixed.
Place the cake batter into the prepared pan and bake for 40 minutes or until a toothpick comes out clean.
Allow cake to cool for 15 minutes, you can either let the cake cool completely in the baking pan or turn the cake out onto a cooling rack if you won't be frosting it in the pan.
In the bowl of a mixer beat butter until smooth, then add in the powdered sugar, lemon juice, and lemon extract and mix on low until combined, then turn to medium until thoroughly mixed and blended smooth.
Separate the frosting into 5 bowls and tint the frosting the desired colors and place them into separate piping bags fitted with piping tips.
I reserved about a 1/2 cup of frosting to slather over the cake before piping so there wouldn't be any "holes" in between the design of the piping.
Pipe the frosting over the top of the cake into a fun alternating pattern with colors and designs.
Recipe by
Created by Diane
at https://www.createdby-diane.com/2020/04/lemon-sour-cream-sheet-cake.html