Mexican Hot Chocolate Cupcakes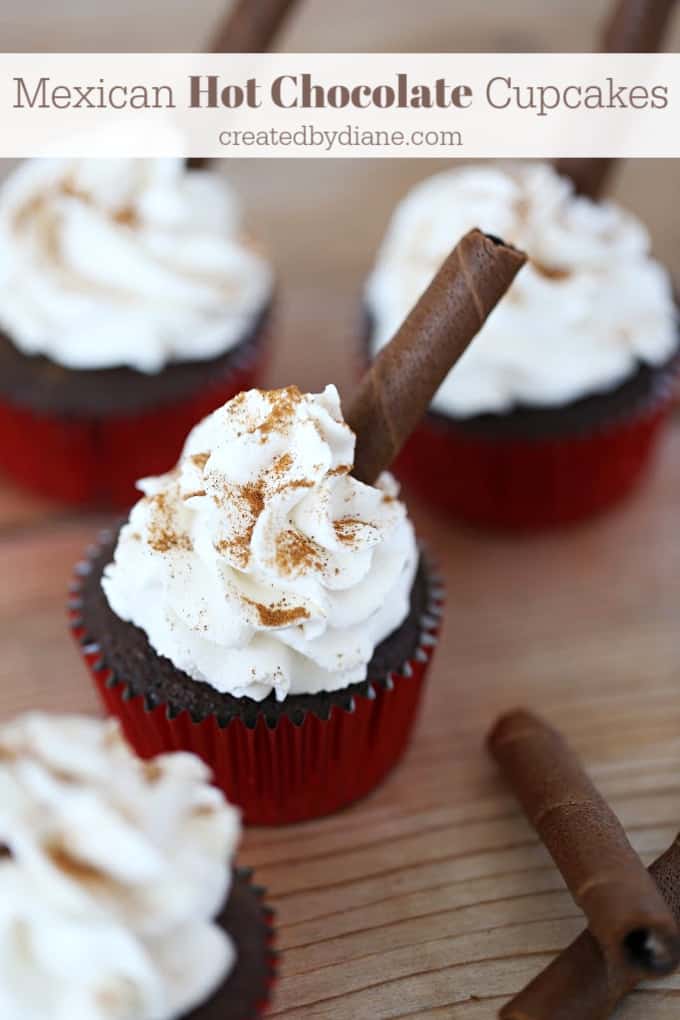 Author:
Diane Schmidt Created by Diane
4 tablespoons cocoa (I use dutch process cocoa)
1/2 teaspoon baking soda
1/2 cup boiling water
1/4 cup butter, melted
2 tablespoons oil (I use avocado oil or vegetable oil)
3/4 cup granulated sugar
1 teaspoon vanilla extract
1/4 teaspoon salt
1/4 cup heavy cream
1 cup all-purpose flour
1 teaspoon cinnamon
1-1/2 teaspoons cayenne pepper
1/2 teaspoon baking powder
2 eggs
1-1/2 cups heavy cream
1 tablespoon powdered sugar
2 tablespoons dry milk
1/2 teaspoon cinnamon
6 chocolate rolled wafer cookies, cut in half
Preheat oven to 350°
Prepare a cupcake pan with 12 portions with cupcake liners.
You do not need a mixer for this recipe, but you can use it if you'd like. I use a whisk and a spatula.
In a medium bowl place cocoa, baking soda and boiling water and whisk to combine. Set aside until needed.
In a large mixing bowl whisk the melted butter, oil, sugar, vanilla, and salt together.
Mix in the eggs.
Add the flour, cinnamon, cayenne, and baking powder to the cocoa mixture, whisk until combined.
Add the heavy cream and mix until combined.
Place 3 tablespoons of cupcake batter into each cupcake liner.
Bake for 18-20 minutes or until a toothpick comes out clean.
Allow cupcakes to cool for 5 minutes, then remove cupcakes from pan and place them onto a cooling rack to cool completely.
Whip cream with an immersion blender and tall container or with a bowl and mixer.
Place whipped cream, powdered sugar, and dry milk to your container, then whip it on high until the cream creates a stiff peak.
Pipe the frosting onto the cupcakes with a 2D tip.
Top cupcakes with a pinch of cinnamon and add half of a rolled wafer cookie to each cupcake.
Recipe by
Created by Diane
at https://www.createdby-diane.com/2020/02/mexican-hot-chocolate-cupcakes.html