12 chocolate cupcakes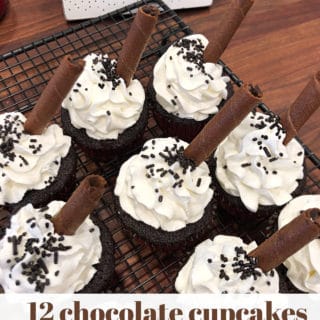 1/2 cup boiling water
1/4 cup dutch process cocoa
1/2 teaspoon baking soda
2 tablespoons butter, melted
2 tablespoons oil (I use avocado oil, vegetable oil can also be used)
3/4 cup granulated sugar
1 teaspoon vanilla extract
1/4 teaspoon salt
1/4 cup heavy cream
1 cup all-purpose flour
1/2 teaspoon baking powder
2 eggs
Preheat oven to 350°
Line a 12 portion cupcakes pan with cupcake liners.
In a bowl, mix boiling whisk hot water or coffee, cocoa, and baking soda. Set this bowl aside.
In a large mixing bowl whisk together melted butter, oil, sugar, vanilla, and salt.
Mix in eggs, then stir in flour and baking powder to the cocoa mixture and whisk it until it's blended, then add in heavy cream and mix until combined.
Place 3 tablespoons into each cupcake liner in the cupcake pan.
Bake for 18-21 minutes or until a toothpick comes out clean.