Thai Peanut Chicken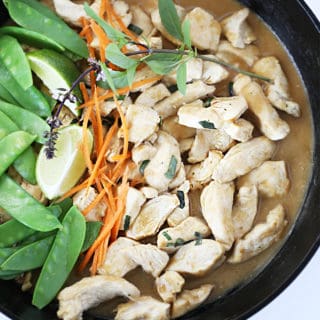 2 chicken breasts, sliced thinly (1.5 - 2 pounds)
1 cup coconut milk
1 cup chicken broth
2 tablespoons cornstarch
1 tablespoon soy sauce
2 tablespoon peanut butter
1 teaspoon garlic paste or minced garlic
1/8 teaspoon crushed red pepper
1 tablespoon lime juice
6 leaves Thai basil, chopped
In a tall jar with an immersion blender or traditional blender add coconut milk, chicken broth, cornstarch, soy sauce, peanut butter, garlic, crushed red pepper, and Thai basil. Blend until smooth.
In a skillet heat sauce on medium-low heat, then add chicken.
Cook on medium to medium-low heat to cook chicken tender. Don't rapidly boil chicken, it will become tough.
Cover the pan with a lid while cooking.
When chicken reaches 165° internal temperature you can turn the burner off, and squeeze lime juice over the chicken.
Taste the sauce and add salt if desired.
Stir and coat chicken, and serve.
I add snow peas and grated carrots to the dish before serving. Add any cooked or raw vegetables you prefer. This dish is great with cooked broccoli, peppers, onions, and asparagus.
Top with fresh Thai basil.