Seared Scallops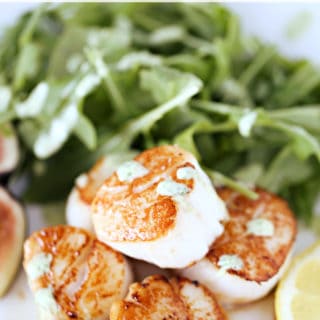 1lb large scallops (sea scallops)
1 tablespoon oil (I use avocado oil, olive oil can also be used)
1/2 tablespoon butter
1/3 cup oil (avocado oil or vegetable oil)
1 egg yolk
1 tablespoon lemon juice
4 leaves basil, fresh
1 clove garlic, minced
1/4 teaspoon salt
4 cups Arugula
1 lemon, sliced into 4 pieces
Make the sauce first:
I add the oil, egg yolk, lemon juice, basil, garlic, and salt to a tall jar, then use an immersion blender to blend the sauce smooth.
If you use a food processor or blender for the sauce, blend everything except oil, drizzle in oil as you blend it so the sauce thickens.
Pat scallops dry with a paper towel so they will crust well.
Heat the skillet on high until the pan is very hot. (I use a cast-iron skillet)
Add the oil and butter and place the scallops in the pan without crowding them (even if you have to make two batches)
After the scallops crust on one side turn the scallops over to cook on the other side, cook scallops until the internal temperature is 130°.
Then plate the scallops with arugula and drizzle the sauce over top. Add lemon and salt and pepper to taste.