Pumpkin Cheesecake Pie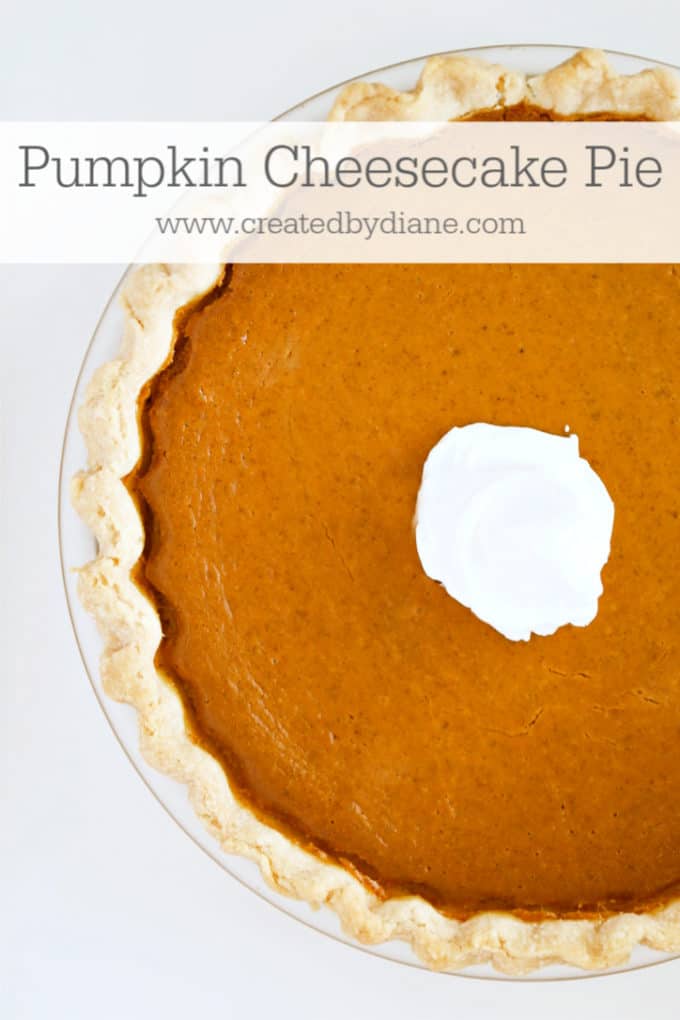 1 unbaked pie crust, rolled out and placed into a pie plate (filling is about 4 cups)
8 oz cream cheese (at room temperature)
1/3 cup granulated sugar
1/2 cup brown sugar
15 oz pumpkin puree
1 teaspoon cinnamon
1 teaspoon pumpkin pie spice
pinch of salt (about 1/8 teaspoon)
1 teaspoon vanilla bean paste or vanilla extract
2 eggs (use large eggs)
1/2 cup heavy cream
*whipped cream for topping
Preheat oven to 400°
In the bowl of a mixer beat cream cheese with granulated sugar and brown sugar until smooth.
Mix in pumpkin, cinnamon, pumpkin pie spice, salt, and vanilla.
Beat in eggs and heavy cream.
Be sure to scrape down the sides at each step to ensure everything is combined well.
Pour the filling into the unbaked pie crust.
Now turn your oven to 350° And bake the pie for 49-50 minutes the center will be set but not firm and not giggly. A knife or toothpick tested 3 inches from the edge should come out clean.
Be sure to not overbake it, as it will then be dry and the center will crack.
Remove pie from oven and cool on a rack for 2 hours, then put the pie in the refrigerator until it's completely cool at least 3 hours.