Chili Verde (Pork in Green Sauce)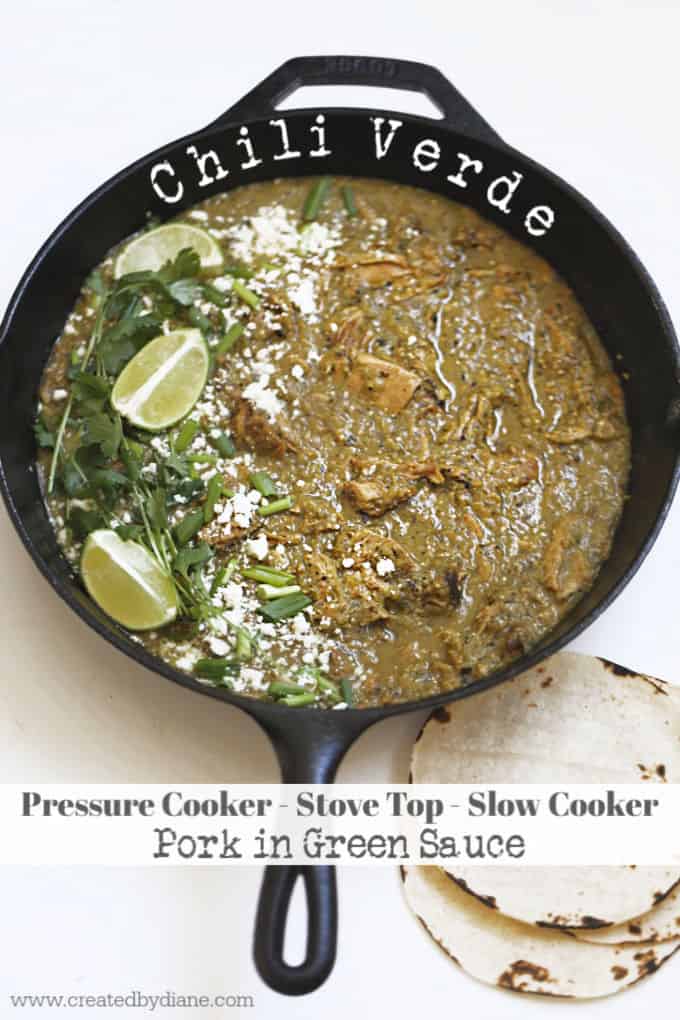 Author:
Diane Schmidt (Created by Diane)
7 lbs pork roast, shoulder or butt (can also use pork chops but the more marbling of fat on the meat the tastier the end result)
2-4 tablespoons oil to cook pork in
10 tomatillos (6 roasted, 4 raw)
2 jalapeno peppers
2 poblano pepper
1 anaheim Chili pepper
4 cloves garlic, raw
1 onion, sliced
1 lime, juiced
1 cup cilantro, chopped
chicken broth: enough to cover, 8 cups for 7-8 lbs for cooking on the stove or slow cooker, a pressure cooker will only need 1-2 cups chicken broth.
1 teaspoon salt
Cut the pork into 2" square pieces.
In a skillet brown the meat on high with oil, until crisp edges form.
Remove husks from tomatillos and wash them with cold water and rub them so the stickiness is removed.
Slice the tomatillos, peppers, onions, and garlic, roast them In a cast-iron skillet or baking sheet on high heat or oven at 425° until blistered with black charred spots, and softened.
Place those ingredients with lime juice, cilantro, and salt in a food processor or blender and blend smooth.
Pour mixture into cooking pan of choice (pressure cooker, saucepan, or slow cooker)
Then place the meat in the cooking pot with green sauce and chicken stock.
Recipe by
Created by Diane
at https://www.createdby-diane.com/2020/03/chili-verde.html