Jalapeno Cranberry Chicken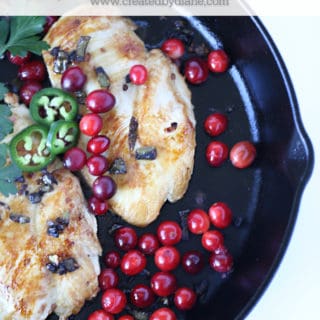 2 boneless skinless chicken breasts
1 cup fresh cranberries
1 jalapeno, diced
2-4 tablespoons water
1 tablespoon oil
salt and pepper to taste
If your chicken breasts are really thick, carefully cut them thinner by fileting them.
Over high heat, heat skillet. I use a cast-iron skillet that holds good heat, sears the food nicely.
Add the oil and stir in the jalapeno.
Add the chicken.
Brown the chicken on each side, once the browning is done, add a couple of tablespoons of water and put a lid on the pan, turn the heat to medium.
The steam will help cook the chicken quickly and allow it to stay tender.
After 5 minutes add the cranberries to the pan around the chicken.
Depending on how thick your chicken is will determine how long it'll take to cook it, use a thermometer to ensure the internal temperature of the chicken reaches 165°. The cranberries will be soft if pressed.
Then remove the pan from the heat add salt and pepper to taste and serve.
If you're looking to make a sauce for the chicken you can add a cup of cranberry juice or chicken broth with 2 teaspoons cornstarch to the pan at the end of cooking and bring the sauce to a low boil to thicken.
Recipe by
Created by Diane
at https://www.createdby-diane.com/2019/12/jalapeno-cranberry-chicken.html