Pumpkin Chocolate Chip Skillet Cookie (Skookie)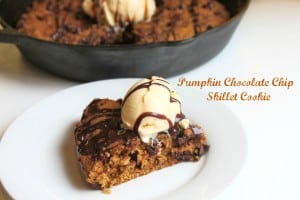 1/2 cup butter
1/2 cup sugar
1/2 cup brown sugar
3 teaspoons vanilla
1 1/2 cups flour
1/2 teaspoon baking soda
1/4 teaspoon salt
1 egg
2 teaspoons pumpkin pie spice
1/2 cup pumpkin puree
1 cup chocolate chips
preheat oven to 350 degrees
On stove heat 12 in. cast iron skillet on medium. Once the skillet is hot, turn to medium-low heat, add butter. When butter is completely melted add both sugars. Onto the sugar butter mixture add flour, baking soda, salt, vanilla, pumpkin, pumpkin pie spice and egg. stir to incorporate all ingredients. Lastly, stir in chocolate chips, don't stir too much or they will all melt. Place skillet in preheated oven and bake for 15 minutes. It's done baking when two inches in from edge comes out smooth when tested with a toothpick. Don't bake until center is totally cooked, the pan will stay hot and it will dry out the cookie and it won't have that really great moist center.
Serve warm with a drizzle with hot fudge sauce and vanilla ice cream.
Recipe by
Created by Diane
at https://www.createdby-diane.com/2011/10/pumpkin-chocolate-chip-skillet-cookie-skookie.html