Salsa Verde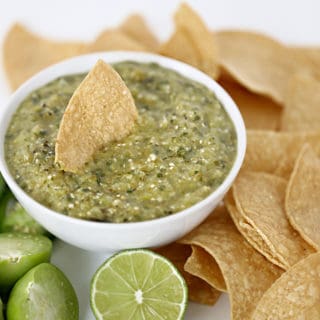 8 tomatillos (5 roasted, 3 raw)
1 Jalapeno, roasted     
2 cloves Garlic, raw
1 lime, juiced 
1/2 cup chopped cilantro
1/2 teaspoon salt
Remove husks from tomatillos and wash them with cold water and rub them so the stickiness is removed.
Slice 5 tomatillos and 1 jalapeno.
In a cast-iron skillet or baking sheet on high heat or oven at 425° and roast until blistered well with black charred spots, and slightly softened.
Add the tomatillos, and jalapenos along with the raw tomatillos, garlic, lime juice, cilantro, and salt together in a food processor and pulse until blended but not ultra-smooth.
Add a few tablespoons of water if you want it thinner.