Cinnamon Cream Cheese Frosting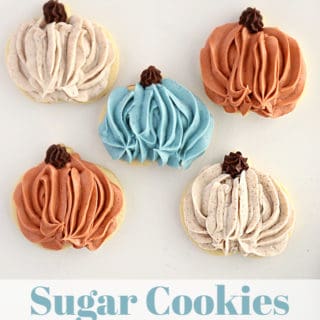 1/2 cup butter, at room temperature
4 oz cream cheese, at room temperature
4-1/2 cups powdered sugar
1 teaspoon vanilla extract
1/2 teaspoon cinnamon
2 tablespoons heavy cream
In the bowl of a mixer beat butter until smooth, then add cream cheese and mix until blended and smooth.
Add in powdered sugar, vanilla, cinnamon, and heavy cream and whip until fluffy.
If you're going to color any frosting now is the time, separate the frosting into smaller bowls then add the food color and mix well.
I divided the frosting into 4 bowls and used the following colors.
I used chefmaster liqua-gel food colors in sky blue, buckeye, and fleshtone.
I separated the frosting into 4 bowls, the white one just had the cinnamon added. (3 had about 3/4 cup of frosting and one had just about 1/4 cup for the brown stems)
The blue frosting is sky blue mixed with some fleshtone.
The rust color frosting is fleshtone and buckeye.
The smaller portion of frosting for the stem is buckeye.
I place each frosting into a piping bag the dark brown I used a small star tip for the stem.
The colors I used for the pumpkins were piped on the cookies with a 2D tip.
Once you pipe the frosting onto the cookies, place them in the fridge for a few minutes to set up, cream cheese frosting is soft and holding the bag will warm it up, but you can serve them at room temperature, if you're the frosting will lightly crust over firmly if you leave them in the fridge overnight, but as soon as they come to room temperature the frosting will soften nicely.
Recipe by
Created by Diane
at https://www.createdby-diane.com/2019/10/frosting-piped-sugar-cookies.html