Pumpkin Spice Syrup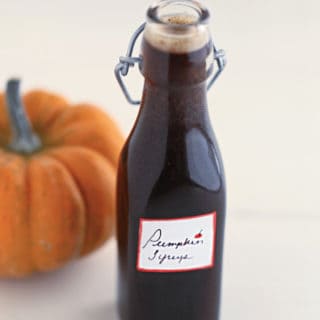 1 cup water
1-1/2 cups sugar (white granulated or brown sugar) it's delicious with both
2 teaspoons pumpkin pie spice
1 teaspoon vanilla extract
In a small saucepan bring water and sugar to a boil over high heat.
Stir in pumpkin pie spice and stir until sugar is dissolved and simmer over medium heat for 5 minutes.
Remove from stove, add in vanilla.
The syrup will thicken as it cools.
Keep stored in the fridge for a month.