Chocolate-Dipped Salted Figs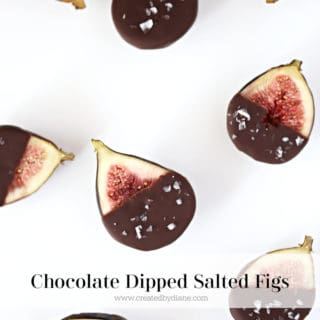 8 figs
1 cup dark chocolate ( I use Ghirardelli 60% cacao chocolate chips)
1 teaspoon coconut oil (or vegetable shortening)
1 tablespoon large sea salt flakes (I use Maldon Sea Salt)
Wash and dry figs.
Slice figs in half.
Melt chocolate with coconut oil by placing them in a microwave-safe glass bowl and heat at 30-second intervals until melted. Stir at each interval and heat until fully melted.
Dip the figs into the chocolate, gently shaking figs back and forth over the chocolate bowl to allow excess chocolate to drip off.
Then place them on a parchment-lined baking sheet, sprinkle salt onto the chocolate.
Place the baking sheet into the fridge to set the chocolate for 15 minutes.
Recipe by
Created by Diane
at https://www.createdby-diane.com/2019/09/chocolate-dipped-salted-figs.html