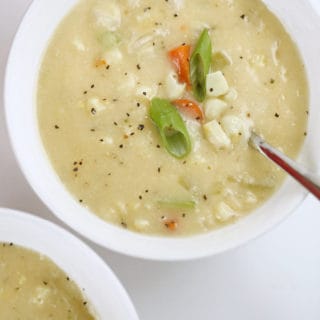 1 jalapeno
½ onion
3 carrot
4 celery
1 lb bag petite sweet white corn (it really tastes closest to fresh picked sweet corn)
2 cups of milk
4 cups of water (or chicken stock adjust chicken bouillion to taste)
1 tablespoon chicken bouillon (adjust according to taste)
3 tablespoon cornstarch
1 cup shredded cheese (cheddar and Monterey jack mix or similar)
1 tablespoon butter
salt
pepper
In a 4 quart saucepan over medium-high heat saute jalapeno and onion for 1 minute.
Stir in carrot and celery.
Blend half the bag of corn with 2 cups milk with an immersion blender, blender, or food processor.
Pour into saucepan.
Mix water with chicken bouillon, and cornstarch until smooth pour into saucepan.
Bring to a low boil then add in remaining corn and cheese and stir and heat thoroughly.
Add in the butter (this makes it tastes like buttered corn on the cob to me if you don't love butter leave it out).
Add salt and pepper to taste. I love sweet corn with butter salt and pepper so add what you prefer.
Serve with green onion and additional corn.
If you want a more roasted flavor, heat the corn until some of it is slightly charred and blackish. You can char fresh or frozen corn, and easily char corn in a cast iron skillet.