Oreo Mousse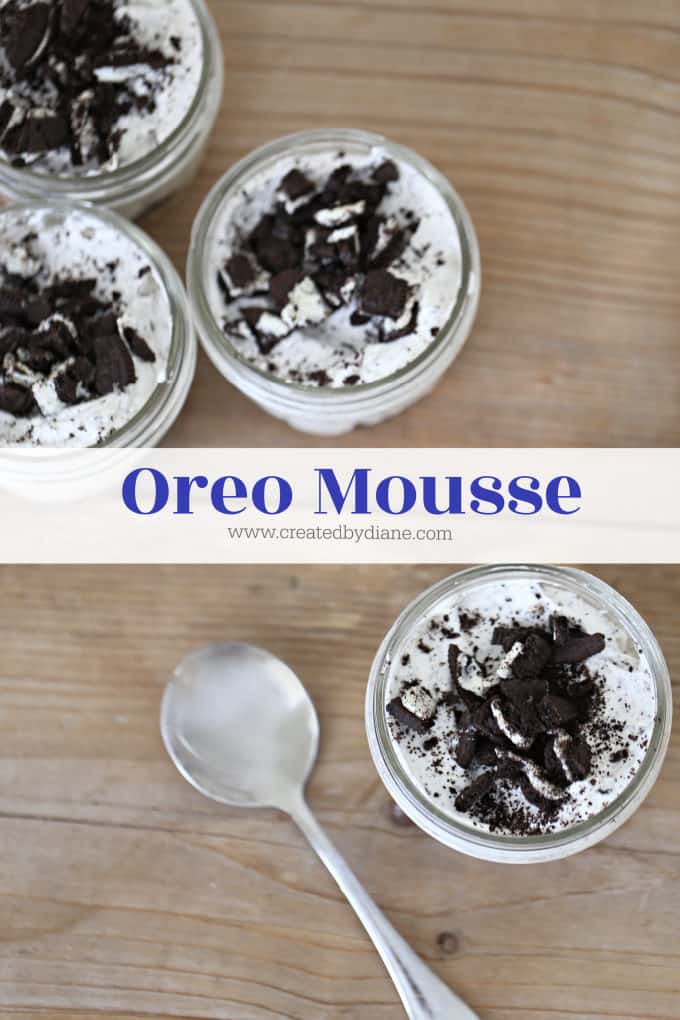 1 sleeve Oreos (15 oreo cookies)
1-1/2 cups heavy cream
1/4 cup sugar
1 teaspoon vanilla
*Optional
2 oz cream cheese (at room temperature)
1 tablespoon dry milk
Crush the Oreos in a plastic bag with a rolling pin, or in a food processor until there are still some chunks not completely smooth (or smooth is you prefer that texture).
In a tall container or mixer whip the heavy cream with sugar until thick (don't overmix or you'll end up with butter)
Stir in vanilla.
If it's really hot out or you want more of a cheesecake flavor add 2 oz room temp cream cheese when adding the heavy cream.
If you won't be consuming them in 2 days add a tablespoon of dry milk so the whipped cream does not separate or 2 oz room temperature cream cheese. (or both is you prefer)
Place some oreo crumbs int he bottom of 4-8 oz jars
You can add some cookie crumbs to the whipped cream mixture or just add layers of cookie crumbs to each cup.
Place some whipped cream mixture and layer some more crumbs then whipped cream and finish with oreo crumbs.
Place lids on jars.
Place in fridge until they set up. They can be consumed right away, but they won't be super thick.
I prefer them extra cold and extra thick.
When they are refrigerated the filling gets even thicker. It's best served cold.