Rosemary Garlic Potato Salad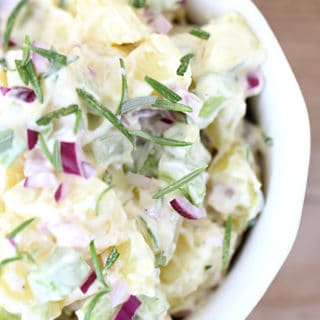 1 lb Yukon gold potatoes
1 tablespoon garlic paste ( I use Gourmet Gardens I like the flavor best)
1 tablespoon oil
2 tablespoons fresh rosemary chopped
¼ cup diced red onion
1 stalk celery diced
¼-1/2 cup homemade garlic mayo
½ cup oil
3 tablespoons lemon juice or vinegar
2 teaspoons garlic paste
1 egg yolk
¼ teaspoon salt
Wash potatoes then place in a 3 quart or larger saucepan and cover them with water.
You'll be cooking the potatoes whole and unpeeled.
Next, bring them to a boil, cook them until tender, when pierced with a knife they slide right off.
Then place potatoes in a container and refrigerate. (I typically boil the potatoes the night before)
Once the potatoes are cold, peel the potatoes with a knife (carefully) and cut them into ½ inch cubes.
Mix up a batch of the mayo and don't forget the garlic!
Heat 1 tablespoon garlic paste with oil, then let it cool a minute.
Mix the mayo with potatoes and add the onion, celery, and rosemary and add in the garlic paste you heated.
Add salt and pepper to taste.
Place in fridge until chilled (at least an hour)
Then mix again and add more mayo if needed if potatoes absorbed mayo.
Top with some more rosemary and serve.
You can freshy mince garlic if you prefer.
Dry Rosemary can be used instead of fresh if you don't have fresh available.
Recipe by
Created by Diane
at https://www.createdby-diane.com/2019/06/rosemary-garlic-potato-salad.html