Lemon Dill Potato Salad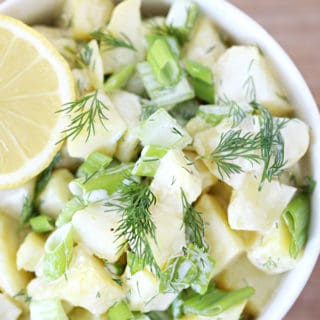 1 lb Yukon gold potatoes
2 tablespoons fresh lemon juice (if you love lemon zest add a teaspoon lemon zest)
1/4 cup diced celery
1/4 cup chopped green onion
2 tablespoons fresh dill
1/4-1/2 cup homemade mayo
1/2 cup oil
3 tablespoons lemon juice or vinegar
1 egg yolk
1/4 teaspoon salt
Wash potatoes then place in a pot and cover them with water.
Bring them to a boil and boil them whole until tender and when pierced with a knife they slide right off.
Then place potatoes in a container and refrigerate. ( I typically boil the potatoes the night before)
Once the potatoes are cold, peel the potatoes with a knife (carefully) and cut them into 1/2 inch cubes.
Mix mayo with lemon juice, (lemon zest if using), and dill.
Mix the mayo with potatoes and add celery and onion.
Place in fridge until chilled (at least an hour)
Then mix again and add more mayo if needed if potatoes absorbed mayo.
Add salt and pepper to taste, top with more green onions and dill.