Sunflower Spritz Cookies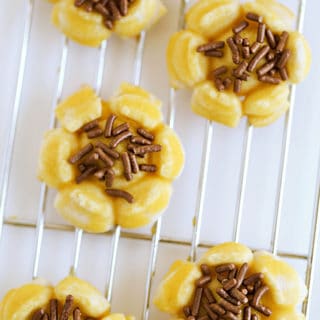 1 cup unsalted butter
1/2 cup granulated sugar
1 egg
2 teaspoons vanilla extract
2 1/4 cups all-purpose flour
1/4 teaspoon salt
1-1/2 cup powdered sugar
3 tablespoons water (more if needed)
1 tablespoon corn syrup
1 teaspoon vanilla extract (or flavor of choice)
Preheat oven to 375°
In the bowl of an electric mixer beat, butter and sugar then add in the egg and vanilla.
Mix in the flour with salt on medium speed until well blended and dough pulls away from the sides of the bowl without over mixing. You want the dough to be soft and tender so the cookies don't come out dry and brittle.
Place the cookie dough into the tube of the cookie press, with the sunflower attachment, I show a photo of the disk in my post. It looks like lines in a circle with a small circle in the center.
Press cookies onto baking sheets an inch apart.
Bake for 7-9 minutes, or until they are just golden on the edges.
Allow cookies to cool completely before icing them.
Mix the powdered sugar with warm water, add in corn syrup, extract, and a drop of food coloring.
Add more water to make it as thin as you prefer.
Over a cooling rack, place cookies and brush icing on with a silicone brush, let excess icing drip off or pour out excess off cookie tops so it's a think coating add sprinkles right away, then allow icing to dry completely before stacking.