Pumpkin Mashed Potatoes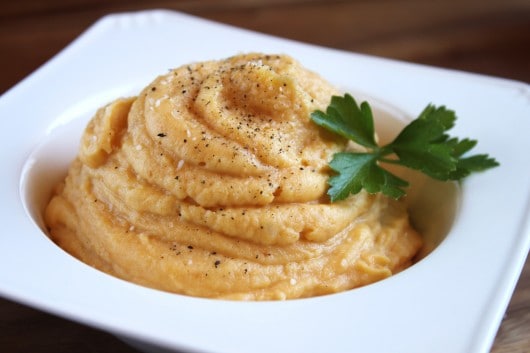 12 medium Idaho Potatoes
6 cloves of garlic
1 Tablespoon olive oil
1-1/2 cups Whole Milk
1 cup Sour Cream
4 Tablespoons Butter
2 cups pumpkin puree
1/4 teaspoon ground clove
1/4 teaspoon ground ginger
2 teaspoons coarse salt
Peel and cut potatoes, cover with water bring to a boil add 1 teaspoon salt, cook until tender.
Drain potatoes, keep them covered in a pot so they stay hot.
Heat 1 Tablespoon olive oil and garlic in a pan on the stove, do not over cook it or it will become bitter, just heat it up until the garlic is not translucent.
Add garlic to potatoes along with milk, butter, sour cream and pumpkin.
Beat on high with a hand mixer until smooth and creamy.
Stir in two teaspoons salt, 1/4 teaspoon clove and 1/4 teaspoon ginger.
Add additional salt and pepper to taste.