Sugar Cookie Recipe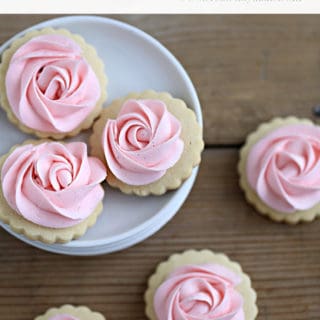 ½ cup butter
¾ cup powdered sugar
1 egg (mixed then 1+1/2 tablespoons removed to use in the recipe)
1 teaspoon vanilla bean paste or vanilla extract (or another extract flavor)
1½ cups flour
1 teaspoon baking powder
½ teaspoon salt
Preheat oven to 400°.
In the bowl of a mixer, beat butter with sugar.
Add in the egg (remember this is a small batch and you'll mix one egg and only add 1½ tablespoons of the egg mix) and vanilla bean paste/extract and mix until combined.
Add in flour, baking powder, and salt and mix until all combined.
Roll out cookie dough to ¼" in between wax paper.
Cut out cookie with a cookie cutter. I used a 2" scalloped edged cookie cutter. (any round cutter would work)
Place cut out cookie dough on parchment lined baking sheets.
Bake for 7-8 minutes.