Lemon Cake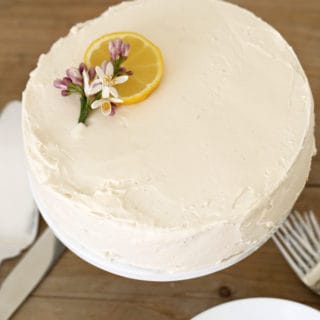 1 cup granulated sugar
2 eggs
1-1/3 cups all-purpose flour
1 1/2 teaspoons baking powder
1/2 cup milk
1/4 cup melted, cooled butter
2 tablespoons oil (avocado or vegetable oil)
2 teaspoon vanilla extract
1 teaspoon lemon extract
2 tablespoon fresh lemon juice (juice of 1/2 lemon)
Preheat oven to 350°
Prepare an 8 inch round cake pan with a baking spray or use vegetable shortening and flour to coat pan completely.
In a medium bowl with a whisk mix sugar and eggs until fluffy and light in color.
Add in flour, baking powder, and milk.
Then stir in butter, oil vanilla extract, lemon extract, and lemon juice until completely combined.
Place batter into the baking pan, wrap a wet baking strip or wet strip of the towel around pan for even baking.
Bake for 30-35 minutes (mine cake took 32 minutes) test cake with a toothpick until it comes out clean.
Allow cake to cool 10 minutes, then turn cake onto a piece of wax paper, then turn right side up onto a cooling rack and allow to cool completely.