Coconut Buttercream Frosting and toasted coconut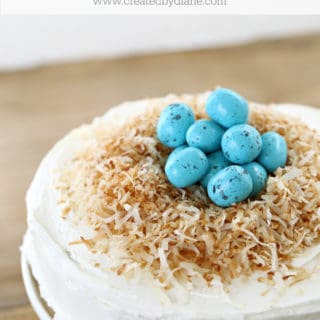 1/2 cup butter
2 cups powdered sugar
1-2 tablespoons milk/heavy cream
1 teaspoon coconut extract
1-1/2 cups sweetened coconut ( for toasting to decorate cake)
1/2 cup speckled candy eggs (I used 11/2 a 5 oz container of Kopper's Robin's Egg Marshmallows)
In the bowl of a mixer beat butter until smooth and light.
Add powdered sugar and begin to mix on low, add in milk or heavy cream and coconut extract and beat on high for a minute, then scrape the bowl to be sure all is mixed well and beat on high until it's whipped up fluffy and smooth.
In a skillet heat coconut on medium temperature and stir while toasting the coconut so it doesn't burn. When all the coconut is golden remove from heat. If you need to cool it quickly, place it on a baking sheet and put it in the fridge for it to chill, it will chill while you frost the cake, then you can top the cake with toasted coconut leaving a well to place candy eggs in the center.
Recipe by
Created by Diane
at https://www.createdby-diane.com/2019/04/coconut-robins-egg-nest-cake.html