Poppy Spritz Cookies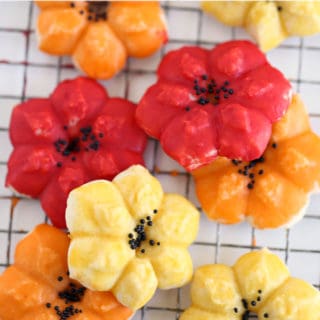 1/2 cup butter
1/3 cup granulated sugar (or 2/3 cup powdered sugar)
1/2 an egg, mix an egg in a dish, then measure out 1 and a 1/2 tablespoons egg mixture and add that to the butter and sugar mixture.
1 teaspoon vanilla
1-1/4 cup flour
this is a small batch and makes about 24 cookies. spritz cookies
Preheat oven to 375 degrees.
In mixer bowl beat butter and sugar until whipped smooth.
On low mix in eggs portion and vanilla until incorporated.
Add in flour and mix on low, then on medium until well combined.
Place dough into a spritz cookie press with a poppy disk attached (looks like 6 diamonds in a circle)
Press the dough onto the baking sheet with the cookie press allowing at least 1-inch space between cookies.
Bake for 8 minutes. Remove cookies before the edges brown.
Allow cookies to cool completely before icing.