Spritz Cookies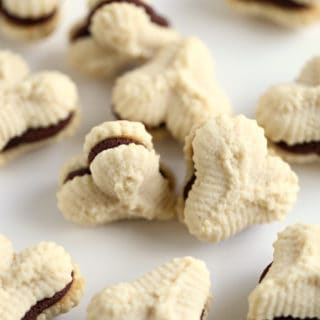 1 cup unsalted butter
1/2 cup granulated sugar
1 egg
2 teaspoons vanilla extract
2 1/4 cups all-purpose flour
1/4 teaspoon salt
Preheat oven to 375°
In the bowl of a mixer beat butter with sugar then add in egg and vanilla.
Mix in flour and salt on medium until well blended and dough pulls away from the sides of the bowl without over mixing. Overmixed dough will result in a dryer, tougher cookies. You want the dough to be tender so the cookies come out soft and not dry.
Place dough into cookie press, with heart attachment.
Press cookies onto a parchment lined baking sheets at least an inch apart.
Bake for 7-9 minutes, remove cookies form oven when edges or bottoms are just golden.
Allow cookies to cool completely before moving or filling.